Petersburg quilters show appreciation for veterans
Jess Field / Petersburg Pilot
The motivation for making quilts to give to local veterans came to Carol Kandoll while watching a video during a Quilts of Valor Foundation fundraiser.
Kandoll will never forget the impact it had on her, and will hopefully have on others. She even bought a copy of the video and plans on donating it to the library for others to check out and watch.
"I was really touched by the testimonies of the returning soldiers, especially the Vietnam vets, one of them said he had been spit on," Kandoll says. "I just got inspired after watching that program, one guy said, 'It meant more to me to receive a quilt from a civilian than to receive a medal from the government.'"
Kandoll could not help herself. She just had to do something, so she organized the Petersburg Quilts of Valor project (PQV). Paul Anderson, commander of the local VFW, estimates there are over 100 veterans in Petersburg. The group has already produced around 15 quilt tops, and the goal is to give every local hero a quilt, starting with the WWII vets, Kandoll says.
"It's just so that they know we appreciate what they do and have done," she says. "Especially the Vietnam veterans, who as you know, there was no welcome home for them."
The project launched at the Rain Country Quilters Guild's annual retreat held on President's Day weekend. Kandoll started making a couple quilt tops in January, and had them ready to display when the guild got together in February.
PQV member Kris Kissinger had the honor of giving the first recipient her quilt last week. Kissinger says she's known Annie Kito Lewis for years, and giving her the first PQV quilt was special.
"She's just a neat, neat lady," Kissinger says. "It gives you a nice feeling that you're doing something for somebody else and letting them know that they are appreciated."
Kissinger says the quilt was simple, only taking around six hours to complete the piecing and binding process. She is thankful for the passion Kandoll shows for the project and spearheading the effort to get people in Petersburg involved.
Kissinger has already pieced together another top and dropped it off with Kim Randrup, who is volunteering to use her long arm quilt machine to finish up to four quilts a month for PQV. So far, the quilts have been patriotic-themed, but not all quilts will be red, white and blue, because some veterans might like something else, Randrup says.
The Quilts of Valor Foundation began in 2003 when founder Catherine Roberts' son Nat was deployed in Iraq. Roberts had a vivid dream about a soldier hunched over, draped in despair, with demons clustered around him, dragging him down emotionally. But then, Roberts saw the soldier wrapped in a quilt and it helped heal him and give him hope.
The Alaskan Fabric Basket owner Savann Guthrie, was aware of the quilting movement and really thought Petersburg needed to get onboard.
"I was really excited when Carol took it on," Guthrie says. "And she's just gone above and beyond."
Kandoll has put together kits with the fabric, already cut, so all people have to do is pick them up at the Fabric Basket and start sewing. Guthrie is helping the project by donating backing for quilts. She has donated backing for two quilts already, and plans to donate more here and there, when possible.
Kandoll says backing for a quilt can range from $30 to $40, batting is a little less, but it really adds up fast. The group is making twin to lap size quilts and looking for donations, whether it's time or money, to keep their momentum going.
"Fabric runs about $11 a yard, it's very easy for $10 to buy enough fabric to bind a quilt, which is the finishing fabric on it," Guthrie says. "The idea is that some people may have the money, but not the time to do the sewing, where others might have the time for sewing, but not the money."
For Guthrie, participating with PQV makes her feel very patriot and grateful for the opportunity to show how much she loves her country. Both her grandfathers were veterans, and she is fully aware of the sacrifices made by veterans to help civilians keep their freedoms. The sacrifices cannot be measured, but a kind gesture like a quilt, is a good start to showing the recognition veterans deserve, she says.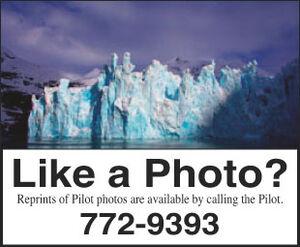 "Quilts are hugs, and I think they are love, definitely. Because they are definitely made with those things in mind," Guthrie says. "Every quilt I make for somebody, I made for them and I think about them while I'm making it. So you really do put a little bit of yourself in them."
Quilters of all skill levels are welcome to lend a hand, but quilting experience is not required for people looking to participate. The process would be an excellent starting point for anyone interested in learning to quilt. Cash donations are also welcomed, and can be dropped off at the Fabric Basket or Kim's, next to Joan Mei.
Carol Kandoll can be contacted at 772-3430 for more information on how to offer a donation or get involved.
Jess Field / Petersburg Pilot