Local ferry out of commission again
An interisland ferry service startup has stopped again, after reporting trouble with its landing craft.
After discovering water in the stern of the Rainforest Islander, operator Rainforest Islands Ferry contacted its customers last week to cancel reservations for the foreseeable future.
On May 11, the ferry's crew discovered water inside the hull. Closer inspection identified stress cracks on welds to the hull plating. Baker explained the engine's shaft is slightly out of alignment, leading to the vibrations which may have caused the plates to fluctuate.
"We may know more later this week," said one of the landing craft's captains, Bob Baker. "We are just waiting for things to fall in line. At this time, I don't even have a ball park figure."
The managing board
was to meet Tuesday evening in Coffman Cove to discuss the service's future. In the meantime, the Rainforest Islander is at Coffman, awaiting an opening at Wrangell's Marine Service Center.
Prior to this discovery, ferry service was cut back to two trips a week due to low ridership. The vessel originally ran on Tuesday, Wednesday, Friday and Sunday, but recently dropped the mid-week run option.
Baker said, as far as advertising goes for the newly established ferry, the company was relying on word of mouth and customers seeking out their website.
The company also planned on offering shuttle service to customers on Mitkof Island, but the managing board decided to keep the Ford E350
minibus they purchased out of service. The vehicle would have transported customers from Petersburg to
Banana Point and back, prior to the board's decision. The
service would not have been cost effective, according to Baker.
"I wish we had the wherewithal to get it up and going again, but things just aren't falling into place," he said.
Connecting communities on the Wrangell, Mitkof and Prince of Wales islands, the three-stop ferry was envisioned by North End Ferry Authority as an affordable alternative to charter travel. The 65-foot vessel it uses is a repurposed landing craft previously used by a Haines logging firm which was retrofitted late last spring.
Since starting service, Rainforest Islands Ferry has experienced a series of operational setbacks, with delays in delivering the Rainforest Islander bumping the initial start to September. The boat has required various repairs at different times since then, intermittently putting service on hold.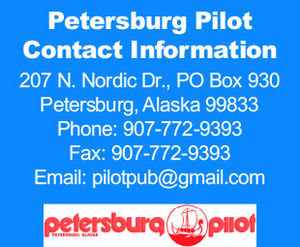 After a four-month hiatus, the ferry began its new year in April, intending to run for a 26-week season before this latest interruption.
Updates on the service's future can be expected on the Rainforest Islands Ferry website, http://www.rainforestislandsferry.com.