Obituary: Bernard M. Engebretson, 71
Former Petersburg resident Bernard (Bernie) Engebretson, 71, passed away April 28, in Brinnon, Washington after a long battle with Parkinson's. His wife (Caroline) and his daughter (Teri) were by his side.
He was born in Shell Lake, Wisconsin on September 27, 1947 to Phyllis (Schull) and Ernest Engebretson, the eldest of five children.
Bernie enlisted in the Air Force after graduating from high school, serving from 1966 – 1970, during the Vietnam War era. He was stationed at the Vandenberg Air Force Base in California and worked on the Titan missile sites. After leaving the service he worked a few jobs and was also in the Air National Guard in Colorado for a short time.
He began working for the Federal Aviation Administration (FAA) in 1978 maintaining the VOR system and runway lights at various airports around the country (Utah, West Virginia and Alaska). Bernie and his family moved to Alaska (his lifelong dream) in 1986 and lived on Level Island where he maintained the VOR system as well as the engine generators that provided electricity to the island. In 1988, the family moved to Petersburg. Bernie continued to maintain the equipment on Level Island and also maintained the equipment at the airports in Kake, Petersburg and Wrangell along with other FAA sites throughout Southeast Alaska until he retired in 2009.
He is survived by his wife, Caroline; daughters Anna and Teri: son Mitch (Jennifer); sisters Chris (Dennis) McDermott, Connie (Maynard) Manke, and Lori (Jeff) Hunter; brother Randy (Gail), four grandchildren (Elizabeth, John, Ryan and Thomas) and numerous cousins, nieces and nephews.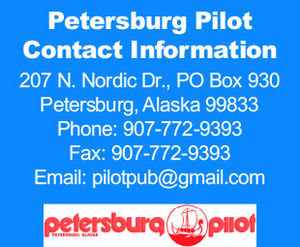 An intimate family service will be held in late June.