Obituary: Betty Jane Pederson
Betty was born in Evanston, Illinois to
Swedish immigrants, Carl and Elizabeth Roger, fondly remembered by all as Big and Little Benna. Petersburg did not have a doctor at that time so Elizabeth traveled back to be with her family in Evanston to give birth to their first born. Betty was raised "out the point" in the log house her father built. It still stands today overlooking the Wrangell Narrows and Frederick Sound.
Growing up during the depression was very difficult, but the family made the best of it. Betty and her sister, June, walked to school every day and at times had to walk on the beach as the neighboring bull might be loose from the barn. One day her folks looked out and saw Betty rowing an old, wood halibut box across the Narrows. She had corked up the cracks and off she went. They didn't know if they dared holler at her to turn around or just let her proceed. She got to the other side, turned around, and made it back.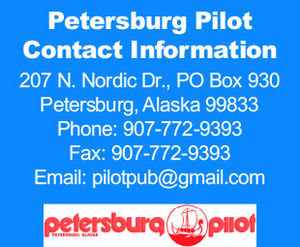 Some of her favorite memories growing up were summers spent at Port Alexander during the depression, her dad was the summer cook at the fish plant. She began working as a waitress in her parents restaurant, The Sandwich Shop, where the current Moose Club is located.
After graduating from good old PHS in 1938 Betty attended business school in downtown Seattle. She moved back to Petersburg and married her childhood friend, Lloyd, March 1, 1942. Lloyd was raised next door to the home he and Betty would later raise their family in on North Nordic Drive. Lloyd joined the Coast Guard that year to help with the war efforts and later followed in his father's footsteps and took up commercial fishing full time.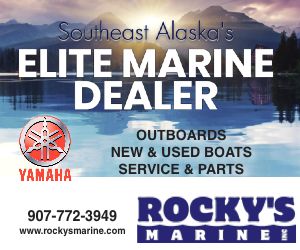 Betty and Lloyd raised their family and when necessary she worked as a waitress at the Pastime restaurant. After her family was raised she worked as a bookkeeper at The Trading Union. Her favorite part of the job was preparing boat settlements. She had fun filling in at the can loft at PFI when they needed extra help.
She loved going out on their F/V Middleton and would cook up a storm each time. Later they built the F/V Betty Jane and went gillnetting at the "senior citizens grounds" over by Horn Cliff. Following the tradition of her parents, Betty would wave her white dish towel when friends and fishermen cruised by the house.
Betty was a wonderful cook and always shared her treats with neighbors and friends. She wore out 3 bread machines over the years. More Christmas Eve dinners were hosted at Betty and Lloyd's house than can be counted. One Christmas, in the 1960s, we 'kids' came home to 22 gallons of clear glass jars full of cookies and candies lined up under the dining room window. Betty and Lloyd also made the best pickled herring. They were very social and truly enjoyed folks stopping by to visit anytime. Betty was also a VERY good sport about Lloyd's 'adorned' Rambler station wagon, a local tourist attraction. She loved to walk, many will remember her going full bore ahead with back straight, head held high, and arms swinging.
Betty and Lloyd loved to travel in their RV and made trips up the Alaska Highway, traveling through Canada, Washington, Oregon, California Nevada, Arizona and Montana. They enjoyed cruising and trips to Mexico and Hawaii with the family. They enjoyed their condo in Seattle and visited frequently. One of Betty's favorite things to do, besides shopping of course, was gathering often with family and friends at a nice restaurant.
Betty and Lloyd were proud original investors in Petersburg Fisheries, Inc., now Icicle Seafoods. Betty was a member of the Pioneers of Alaska, the Emblem and Moose clubs and the PFI bowling team. She was baptized at Petersburg Lutheran Church the same time as her granddaughters.
Betty lived her last three and a half years at Petersburg Assisted Living under the wonderful care of the staff. We are ever so grateful for them.
Betty lived a life full of pep and spunk, but she also never tired of sitting and watching life out her window.
Betty was preceded in death by her parents Carl and Elizabeth Roger, her sister June (Duna) White, her daughter Janice Mikkelsen (2007) and her husband, Lloyd (2008).
Betty is survived by her son Roger Lloyd Pederson, daughter, Jean Alice Curry (Clyde), son in law, Kaare Mikkelsen and grandchildren Carl Pederson, Kirsten Curry, Autumn Curry and Julianne Curry.
She was loved and adored by many and her family is thankful she could 'be on her way'.
A graveside service will be held May 9th, 2020 followed by a gathering at the Sons of Norway Hall.