Obituary: Art Hammer, 101
Art Hammer was born on July 7, 1921 to John and Marie Hammer in Petersburg, Alaska. He was born at the family's house on Lumber Street, where he joined siblings Jennie, Agnes, and Norman. His brother James joined the family five years later.
As a child Art could be found helping his Dad work on the house they were building on Hammer's Slough, rowing up Petersburg Creek, or fishing with friends. All of Art's educational years were completed in Petersburg. He was a member of the Petersburg High School's ski team, excelled in academics and graduated in 1939.
At the age of fourteen Art began working at the cannery in Scow Bay, spending the busy summer season staying in the bunkhouse. As a teenager he was a sales clerk at the family's store, Hammer & Wikan, which was established the year he was born. He went on to spend time in Seattle attending business school before heading up north to Anchorage to join a team of surveyors.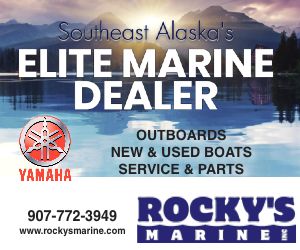 On July 22, 1942, Art enlisted in the U.S. Army Air Force. For most of his four enlisted years he worked on Adak Island, Alaska, as a member of the 10th Emergency Rescue Boat Squadron, also known as "the crash boats," and the Air Sea Rescue with the 11th Air Force. Because of his previous experience with business and his education, the Air Force selected him as an office manager in the Adak headquarters and tasked him with the responsibility of ensuring all forty-six boats, and the seventeen to eighteen men onboard each of them, were well taken care of. He was honored with the Good Conduct Medal, Asiatic Pacific Theater Ribbon, and the World War II Victory Medal – as well as gaining the notoriety of being an Army Rifle Expert.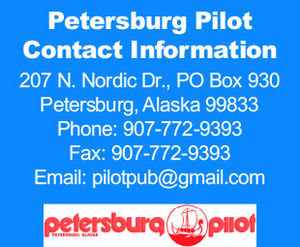 Upon discharge, Art boarded the passenger ship SS Yukon to make his way home. In the middle of the night on February 4, 1946, she ran aground outside of Seward. Art eventually made his way back to Petersburg to continue his career with Hammer & Wikan. He managed the company for thirty-eight years and became known for generously lending assistance, understanding hardships, and helping others in their times of need.
In 1953 Art met Jeannine Viall of Jordan, Montana, at the Petersburg Elks Lodge. She was his soulmate and the love of his life. They married in Montana on February 14, 1954 at the Miles City Presbyterian Church.
With the help of a few good friends, Art and Jeannine built their forever home above Hammer's Slough in 1957. A couple years later they adopted their First baby, Timothy. In 1962 they adopted a baby girl, Myrl, and in 1967, their youngest son Michael. In the late 70s, Duane Bell became like another member of the family when he came to live with the Hammers while apprenticing at the store. Art and Jeannine have two grandkids, Kelsey and Camille, from Tim.
After retiring in 1984 Art and Jeannine spent many years as "snowbirds." When Petersburg got too cold they'd make their annual migration, traveling by motorhome down the California coast to Yuma, Arizona. When down south got too warm they'd head north to the Kenai area and beyond where they loved fishing the river, hunting, and visiting with fellow traveling friends.
Art passed away at his home on Friday, April 28, 2023 with his family by his side. He is remembered for his work ethic, generous heart, stubbornness, and love of the outdoors – he caught more fish and hunted more animals than can be counted. His recollection of years past and his stories were always a treasure to hear. He lived a great 101 years of life.
Art was preceded in death by his parents, John and Marie; siblings, Jennie, Agnes, Norman, and Jim; his son Tim; and many family and friends. He is survived by his wife of sixty-nine years, Jeannine; daughter, Myrl; sons, Michael and Duane; granddaughters, Kelsey and Camille; and many extended family members and long time friends.
A memorial service will be held Saturday, May 13th, 2023 at 1:00 p.m. at the Petersburg Lutheran Church with a cemetery service immediately following.